Buy and sell the Walmart gift cards for e-currency or cryptocurrency!
If you search for a reliable place where to buy or sell the Walmart gift cards for e-currency and cryptocurrency the Buysellvouchers.com online market for gift cards buyers and sellers can be option for you.
The Buysellvouchers advantages:
- For buyers: Discounted gift cards!
- For sellers: Non-commission sales!
- Trusted service since 2012!
On Buysellvouchers online market for gift cards, vouchers and coupons, you can buy and sell the Walmart gift cards for many different e-currencies and cryptocurrencies like: ADV Cash (Advanced Cash), Webmoney, PerfectMoney, LTC, BTC, ETH, BS Token, Tether ERC20, Tether TRC20 and many others (coming soon). The simple registration process will allow you to purchase the Walmart gift card fast and simple!
Shortly about the Walmart gift card
The Walmart gift card is very good if you want to share the joy of shopping with everyone out there. Walmart itself is one of the major hypermarkets in the world. It's full of extraordinary products and they also have a very good set of deals too. One of the main benefits you get from shopping at Walmart is the fact that it's a place where you can get all the stuff you want in bulk. You can acquire stuff in-store or you can buy online without a problem.
The Walmart gift card is designed to help you to offer other people a way to buy anything they want. It can be hard to figure out what to gift someone, so you are better off buying them the gift card and they can choose whatever they want. A store like Walmart pretty much has everything you need, and you will be impressed with just how much value they bring to the table.
Maybe the best thing about such a card is that you can buy anything you want without worries. You can feel free to go in the store, pick a cart and just purchase whatever you need within the gift card limit. It's simple, you just go to the checkout and then pay with the gift card. This is one of the coolest ways you can buy stuff online without any worries. It's incredible if you need anything from gadgets to groceries, electronics and many others. Walmart has many of those, and you just have to give them a try for yourself if you want the best experience and results.
What are the Walmart gift card denominations?
Another thing to note about the Walmart gift card is the fact that there are a vast range of different denominations. You can choose the standard ones that are $20, $25, $50, $75, $100, $150, $200, $300 or even $400. If you choose to create your own Walmart gift card, then you can easily choose an amount from $5 to $500, any amount you want. The fact that you can create a custom gift card is nice, since you are getting a lot more control over the process and you don't have to worry about anything else. It's very convenient and simple.
There's no limit in regards to how many Walmart gift cards you can buy. Whether you want to buy for someone else or for yourself, you can buy as many as you want and use them right away. It's great because you get to have more control over how you spend everything, and it's well worth the effort every time.
How to buy the Walmart gift cards with cryptocurrency and e-currency
If you are interested to buy the discounted Walmart gift cards, BuySellVouchers.com online market will be an option for you. At Buysellvouchers e-market,you will find vouchers buyers and sellers from all over the world. Here you will be able to buy or sell all the most popular gift cards and vouchers, like Amazon, Skype, Spotify, Itunes & App Store, Adidas, Uber, Google Play, Ebay, Nike, Ikea, Cashu, Razer, Newegg, Best Buy, Walmart, Airbnb, Perfect Money, Target, Neteller, WebMoney, Visa, Skrill, Sephora, American Express, Starbucks, Plati, Voip and many others. For some of the gift cards categories you can find discounts up to 35%.
Here you can find the tutorial with the instructions how to buy Walmart gift cards on Buysellvouchers: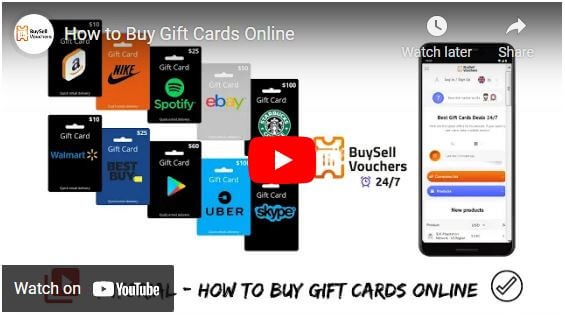 If you're looking to offer a great gift to someone, the Walmart gift card is a very good option. You have custom amounts to choose from, and the gift card never expires. That means you can easily share the gift of buying some really good stuff from Walmart to anyone, all with a nice gift card!