Buy and sell Uber gift cards for e-currency and cryptocurrency!
Are you searching for the save website where to buy or sell Uber gift cards for cryptocurrency or e-currency? Then visit Buysellvouchers (online e-market for gift cards buyers and sellers). It can be the solution for you.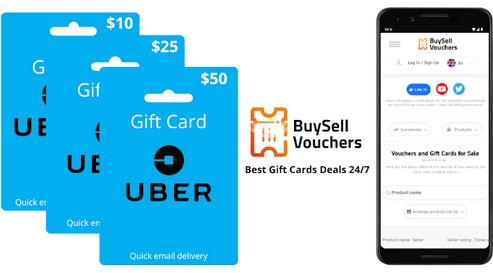 The Buysellvouchers advantages:
For Buyers: Discounted gift cards (up to 35%)!
For Sellers: Non commission Sales!
Reliable service since 2012!
On Buysellvouchers online market you will be able buy or sell Uber gift cards for many different e-currencies and cryptocurrencies like: Advcash (Advanced Cash), PerfectMoney, Webmoney, Litecoin (LTC), Ethereum, Bitcoin (BTC), BS Token, Tether ERC20 (USDT) and many others will be added soon. The fast registration process will allow you to purchase Uber gift cards fast and simple!
Shortly About Uber Gift Card
Before learning intricate details about Uber gift card, you must know some information about Uber. It is a top pick up and drops travel service provider around the world. No matter where you want to go, at any point in time, you just need to make a booking of Uber and they will be available at your service.
Uber is known for its round the clock services, which is highly required by many travellers. When it comes to Uber Gift cards, you must know that they are available in different denominations. They come with the validity of 36 months validity, which is a very long time for deciding where you want to go or what you want to eat. Yes, apart from using an Uber gift card for riding, you can also use it on Uber eats. This card is an ultimate gift for giving your loved ones a chance to order food or can go anywhere where they have not been.
One can use an Uber gift card for gifting friends and family the real luxury to order favorite food at home. If you are the one who knows anyone around in your circle that hesitates on order food due to late delivery and low-quality food. Then you must introduce them to Uber Eats. Getting hands-on Uber Gift cards can help you have money that can be spent on food and transport easily. Your friend and family will surely love you for such a wonderful and thoughtful gift. It is easy to send and buy a uber gift card in less time. One can redeem the Uber gift card on Uber Eats and for an Uber ride.
Important things to know about Uber gift card:
- It is valid for 36 months from its activation date and can expire if not used within its validity period.
- It is easy to add them through an Uber app.
- The gift cards are redeemable for both Uber eats app and Uber ride.
- It is available in the places wherever Uber & Uber Eats is available
- If in case you want a partial redemption of Uber gift card, it is possible to do it as many times as you want, until the balance is finished or your card has expired.
- It cannot be refunded or returned
- It works on both New and existing account
In case you have any issues related to the Uber gift card, you can get in touch with the Uber help center for more details.
How to Buy Uber Gift Cards with Cryptocurrency or E-Currency
If you search for the discounted Uber gift cards or want to sell them online , BuySellVouchers.com will be an option for you. It is an online trading platform for gift cards, vouchers, gift certificates and coupons buyers and sellers. At BuySellVouchers.com online e-market, you will be able to purchase or sell all the most popular vouchers and gift cards, like Skype, Spotify, Itunes & App Store, Google Play, BestBuy, Amazon, Target, Ikea, Sephora, Nike, Uber, Razer, Newegg, Walmart, Airbnb, Perfect Money, Ebay, Adidas, WebMoney, Cashu, Neteller, Skrill, Visa, American Express, Starbucks, Plati, Voip and many others. For some gift cards categories you can find discounts even up to 35%.
Here you can find the simple tutorial with the instructions how to buy gift cards online:
Buying Uber gift card online is possible on our website. Just contact dealer of Uber voucher, choose the voucher of right currency and value and just follow instructions, given by the system. There is one significant advantage of buying Uber code online – in most cases it's being sold for price which is lower, than its value.