Buy and sell Spotify gift cards for e-currency and cryptocurrency!
Do you search for the save website where to buy or sell Spotify gift cards for e-currency or cryptocurrency? Then Buysellvouchers (online trading platform for gift cards and vouchers) can be the solution for you.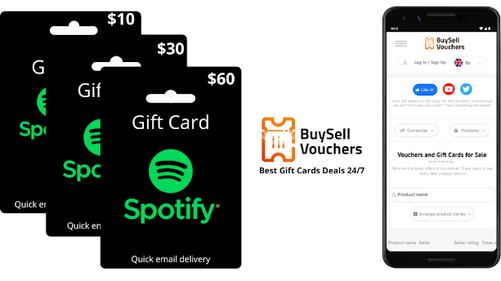 Buysellvouchers benefits:
- For Buyers: Discounted gift cards!
- For Sellers: Non Commission Sales!
- Reliable service since 2012!
On Buysellvouchers online trading platform for gift cards, vouchers and coupons you will be able to purchase or sell Spotify gift cards for many different e-currencies and cryptocurrencies like: Advanced Cash (Advcash), Perfect Money, Webmoney, LTC, BTC, BS Token, Tether ERC20 and many others (coming soon). The simple registration process will allow you to buy Spotify gift cards fast and simple!
Shortly About Spotify
Spotify is one of the largest music streaming websites that you can find online. It has more than 70 million premium subscribers and more than 100 million free users. It really is one of the most impressive platforms you can use in order to listen to any music you want. They have desktop as well as mobile apps, so you can easily access the service and listen to your content wherever you see fit. All you need is to consider giving it a try, and you will find the service to be very convenient and simple.
Where can you find Spotify gift cards
The thing to keep in mind about a Spotify gift card is that the company itself doesn't sell them online. You will find retailers that offer them in a physical format or you can get a Spotify gift card online. That's the better option actually, because it delivers the simplest way to access and use all the content you need, and you will find this to work seamlessly on just about any platform.
How can you use the Spotify gift card
All you need is to access a Spotify gift card first. Most of the time you will find a code to these cards online and you can redeem it inside the Spotify app or on their website. You can only use it for the regular priced Spotify subscription. Due to pricing limitations, the Spotify gift card can't be used on a student account. So if you are a student and you already have a Spotify account, these gift cards will not work for you?
How many months are covered by the Spotify gift card
That depends on a variety of factors, mostly what amount you want to pay. There are gift cards to cover a month, just like there are gift cards to cover an entire year. It's all up to you, the convenience is great here and you will find yourself offering plenty of quality services and a tremendous value for everything here.
Can you use more than a single Spotify gift card at once
You can only add a single Spotify gift card at a time. However, once you redeemed it, you will have no problem redeeming another one. Spotify doesn't stop you, the only thing is that you're not redeeming in bulk. Other than that, you will be more than ok and they will give you all the efficiency you would need without any worries.
How to Buy Spotify Gift Cards with Cryptocurrency and E-currency
If you search for the discounted Spotify gift cards or want to sell them , BuySellVouchers.com will be an solution for you. It is an online e-market place for gift cards, coupons and vouchers buyers and sellers. Here you will find gift cards buyers and sellers from all over the world. At BuySellVouchers.com online market, you will be able to buy or sell all the most popular gift cards, like Itunes & App Store, Google Play, Spotify, Amazon, Ebay, Uber, Sephora, Nike, Ikea, Razer, Newegg, Walmart, Airbnb, Perfect Money, BestBuy, Adidas, Target, WebMoney, Cashu, Neteller, Visa, Skrill, American Express, Plati, Starbucks, Voip and many others. For some gift cards categories you can find discounts even up to 35%.
Here you can find the tutorial with the instructions how to buy gift cards online:

You can feel free to buy and use the desired Spotify gift card right now or you can share it with other people. It's an amazing opportunity and one of the best things to consider in a situation like this. Just keep that in mind and you will find yourself very impressed with how the Spotify gift card system works. It's incredible, it conveys a lot of value and in the end it will bring in front a very good experience. Give it a try for yourself right now if you want to offer a few months of Spotify as a gift to your loved ones!