Buy and Sell Itunes Gift Cards for cryptocurrency and e-currency!
If you search for the online platform where to buy and sell Itunes & App Store gift cards for cryptocurrency or e-currency then Buyselvouchers online e-market will be the solutution for you.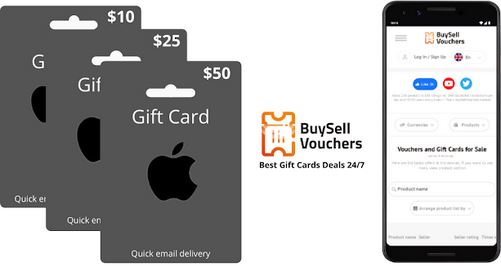 Buysellvouchers advantages:
1) For Sellers: Non Commission Sales!
2) For Buyers: Discounts up to 35%!
3) Reliable service since 2012!
At Buysellvouchers online market you will be able to buy and sell the Itunes gift cards for many different cryptocurrencies and e-currencies like: Perfect Money, Advcash, Webmoney, BTC, LTC, Tether ERC20, BS Token and many others (coming soon). Thanks to the simple registration process you can buy Itunes gift cards by just a few clicks.
Shortly About Itunes gift card
Everyone loves unlimited entertainment; just imagine if you get a card through which you can access the whole world of entertainment. So here it is the iTunes gift card which can provide you with an abundance of entertainment. This card by Apple offers the usage of wide variety of apps, movies, books and millions of songs which is also very popular in the young generation.
What is the use of the gift card
The iTunes gift card has many uses and it can be used by customers for purchasing virtual products from the iTunes Store, App Store, Apple Books or Apple TV Apps. So, if you are having an iTunes gift card, you can easily access your favorite movies, games, books and many informative apps as well.
The iTunes gift card can be also used for paying the subscription fee for services such as Apple Arcade, Apple TV+, News+, and a lot more. The gift card can not only be used for virtual purchases, but also for any purchase-in-store of Apple accessories and hardware.
How to check your iTunes gift card balance
There are no worries if you want to check your iTunes gift card balance or you want to increase the balance of your gift card. The balance of your iTunes gift card can be checked at the iTunes store. You just have to log in to your iTunes account if you have one and if you don't have an account just create one.
A Quick Link box will appear on the right-hand side and then you can look for the "Redeem" link. When you will fill in all the information about the gift card, the updated balance of your gift card will appear on the top of the iTunes and this is how you can know your iTunes gift card balance easily.
How to Buy Itunes Gift Cards with Cryptocurrency and E-currency
If you search for the discounted Itunes & App Store gift cards or want to sell them , BuySellVouchers.com will be an option for you. It is an online market place for gift cards, vouchers and coupons buyers and sellers. Here you will find gift cards buyers and sellers from all over the world. At BuySellVouchers.com, you will be able to purchase or sell all the most popular gift cards, like Google Play, Amazon, Itunes, Ebay, Uber, Spotify, Sephora, Skype, Ikea, Razer, Target, Newegg, Walmart, Airbnb, BestBuy, Nike, Perfect Money, Addidas, WebMoney, Cashu, Neteller, Skrill, Visa, American Express, Starbucks, Plati, Voip and many others. For some gift cards categories you can find discounts up to 35%.
Here you can find the tutorial with the instructions how to buy gift card online:

If you want to buy the Itunes & App Store gift card now just contact dealer of Itunes gift card, choose the card of the right currency and value and just follow the instructions, given by the system. The Apple iTunes gift card is one that comes without any expiry date, so what else do you need? Get ready to shop for your favorites today.