What Is Uber Gift Card And How Does It Work?
Uber is a company which offers affordable and convenient taxi services through its mobile app. You can anytime hire a private Uber driver to pick you from your location and drop at your choice of the destination place.

This can be done with a tap of a button and by using a smartphone device. The nearby driver arrives to pick up the customer within minutes. The best part, Uber is available in more than 700 cities across the world.
What is Uber gift card?
You can purchase and send the Uber Gift Card to your loved ones in minutes. These gift cards are redeemable across the Uber & Uber eats. You can call it as the best way nudging your friends or family to go to a new place or try a new dish as per your choice. The Uber gift card can be a perfect gift which can open lots of possibilities. You can also use this Uber Gift Card to give your friends and family a gift of tapping a button and getting the ride, anywhere and anytime.
How do Uber gift cards work?
The Uber Gift Cards are available online at uber.com or Uber app. You can also buy it at various retail locations. These gift cards by Uber works amazingly as all you need is the Uber gift card code for redeeming its offers. These offers can be redeemed at Uber eats or on Uber app for taking a ride.
What is the aim of the Uber gift card?
The main objective of the Uber voucher is to promote the existence of Uber. Yes, with the introduction of Uber gift cards, they are trying to do its promotion everywhere. It comes with so many rewards that can excite the customer, and they are ready to pay a good price for these Uber voucher codes. This way, you can also gift Uber coupons for first ride to your friends and family too.
Where can Uber gift card are used?
If you want to know where you can use your Uber coupon for new user, you will be glad to know that it can be used for paying for Uber rides in the US cities and wherever Uber is available. The Uber coupon code can also be applied in Uber Eats.
What does Uber gift card code consist of?
The Uber coupons consist of a secret gift card code, which you have to scratch gently with a coin. This secret gift code has to be entered on the latest version of the Uber app without giving any spaces.
What is the value of the issued Uber gift cards?
You can choose from any of the value available which includes $15, $20, $25, $50, $75, $100, $150, $200, $300, $400, and $500. These available amounts can vary from retailer to retailer.
Where can I check if the Uber gift card code is valid?
Although these Uber coupon codes never expire, still here is a simple trick to know about the validity of the Uber Gift Card. For this, you need to have an updated version of the Uber app, select on "Payment" option, and select a gift card. You need to follow the whole steps as you do while redeeming the Uber Gift Card. On the blank space, enter your gift code. If it is showing some error, cross-check whether you have entered correct details or not and try again.
Note: Always keep your Uber Gift Card safe just like you keep your debit and credit cards because once they are redeemed, they cannot be used again.
How to redeem the Uber gift card?
If you are willing to know how to use the Uber voucher, then follow the simple steps given below.
The Uber coupon for existing users and for new user applies Uber credits to every Uber account. For using the Uber Gift card code,
- Make sure you have updated version of Uber app
- Tap on the menu option and select the mode "Payment".
- Select "Add payment" and click on "Gift card".
- Enter your secret gift code without giving any spaces.
As soon as you have added a gift card to your Uber account, it cannot be transferred.
You cannot even reload the gift card, but can simply add around $1,000 in Uber voucher code credits to your account. As you use these credits, you can also add more.
Is it possible to use an Uber gift card worldwide? Are there any usage restrictions?
The Uber gift card can be used only in those countries where Uber is available. Moreover, these Uber Gift Card codes can be used only in that country only from where it was purchased. For example, the Uber Gift Card purchased in the US can be used in the US only and not in India or any other country.
Is there any expiry term for the Uber gift card?
No, they come with the lifetime validity. This means the Ube Gift Cards can never get expired.
Do I require an alternative method of payment for using my Uber gift card?
Well, no you don't need an alternative payment method for using the gift card as long as the trip doesn't exceed the credit balance. If the balance is lower than the cost of the trip, you will be prompted for adding an additional payment method or gift code for its remaining cost.
Note: The University Campus Cards cannot be used as an alternative method of payment for gift cards.
Is there any limit to how many Uber gift cards can be added to one account?
No, you can add as many Uber vouchers as you want.
Buy and sell the Uber gift cards online!
If you search for the discounted Uber gift cards or want to sell them for cash, visit BuySellVouchers.com. It is an online market place for gift cards, vouchers and coupons buyers and sellers. Here you will find gift cards buyers and sellers from all over the world. At BuySellVouchers.com, you will be able to buy or sell all the most popular gift cards, like Amazon, Google Play, Itunes, Ebay, Spotify, Skype, Walmart, BestBuy, Perfect Money, WebMoney, Cashu, Neteller, Visa, American Express, Starbucks, Voip and many others. For some gift cards categories you can find discounts up to 35%.
The accepted payment methods: PerfectMoney, Advanced Cash (Advcash), Litecoin, Bitcoin, WebMoney, BS Token, Tether ERC20 and Tether TRC20.
Here you can find the tutorial with instructions how to buy gift card online: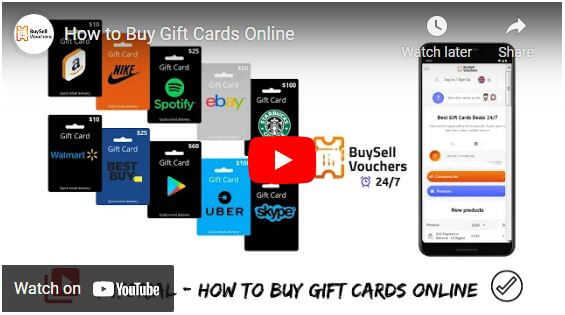 Conclusion
Get ready to gift Uber rides to your friends and family for whom you care. You can also add great value to your account. This is a better way of spending money and also helps in maximizing credit card points. Place an order for a handy and convenient Uber Gift Card now.