What Is Spotify Gift Card And How Does It Work?
A complete beginner's guides containing all information about Spotify gift card, its working, code and redemption, and everything is explained below. Before knowing about the important details about the Spotify gift card, let's get some information about Spotify.
What is Spotify?
It is a well-known service of audio streaming which publicly launched in Europe in the year 2008 and since then it has expanded in top markets that include Australia, Canada, the United States and many more. Spotify is known for its best music streaming that allows every user for streaming music from the top labels online or through its official Spotify desktop app. Apart from streaming good music, it also works as a tool for consuming the podcast.
What is Spotify Gift Card?
Good music is appreciated by many as per their choices and preferences. One might use it for escaping the outer world and some person may use it while studying or working out. Some persons prefer listening to it in the background for focusing themselves while at work.
Thus, for such people, Spotify gift cards can be an ultimate gift. Yes, the Spotify gift card is a digital or physical music gift card which can be a perfect solution if you are willing to give music to someone as a gift and sticking within your budget.
The person to whom you gift the Spotify gift card can feel on top of the world as this gives them the freedom to choose whatever music they want. Based on the service type, they can also stream or act like a Spotify music downloader for songs of their choice by redeeming this prepaid gift card.
How does a Spotify Gift Card work?
The Spotify gift card works easily. If you want to gift it to your friend or to some other person, you can get it online or can get them from the nearby retailers. If you have got this Spotify gift card as a gift and you are stressing as to how does it work? Then you just need to visit Spotify gift card redemption page for entering the card number and the given PIN on your gift card for claiming the account credit. You just need to log on to the landing page of Spotify for the gift cards, and you can also follow the related instructions for redeeming its offers.
What is the aim of the Spotify Gift Card?
When to get your hands on digital music through Spotify gift card, the users always enjoy its control as to how much one wants to spend. This gift card has come up with the main objective to allow its users to gift something special to their friends, family and even children to whom you don't want to go over the limit. Additionally, the Spotify gift card can also be your last-minute gift if you are stressing over as what to buy. The best part, it is easy to deliver through mail too.
Where Spotify Gift Card can be used?
You can gift Spotify gift cards to your friends and family and they can enjoy it for long 12 months from its date of purchase. One must take a note that these gift cards can only be redeemed on the accounts of Spotify which are registered in the same country, from where they were purchased.
Spotify gift card adds the balance of its card to one's account, which can be used for upgrading the account to its premium level. This subscription allows you to enjoy different uses which include:
- Playing your choice of music tracks;
- Spotify download music and listen offline;
- High definition quality of sound;
- No ads in between.
What does Spotify Gift Card code consist of?
The Spotify gift card consists of card details and a secret pin code that can only be revealed once you scratch the card. You need to enter the gift code when you are redeeming the gift card.
Sometimes you can be asked for pin code, so you need to be aware of it and use the zip code of that particular city from where you are redeeming. Soon after entering the correct gift card code, you can start streaming good music in one click.
What is the value of the issued Spotify Gift Cards?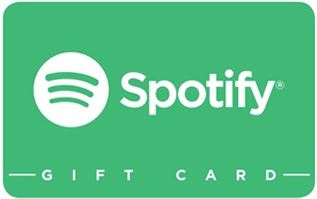 The Spotify gift card allows its users to enjoy the limitless Spotify online player streaming of music from anywhere. These gift cards can also be mailed to you within less time by the online Spotify gift card sellers. These Spotify stock prices are $10, $30 and $60 value which allows the users for downloading the music to their device and can play them anytime even offline. Joining the subscription service with Spotify gift cards can be a plus. It is simple in finding the song that you want to listen to and click on play. Stream whichever music you want to which comes in HD Spotify quality and free from ads.
Where can I check if the Spotify Gift Card code is valid?
These Spotify cards can be used immediately. Both digital and physical cards are available which can be purchased from online retailers and can be mailed to your inbox. They are valid for only 12 months. You can visit the redemption page and can enter your card details there. Make sure you enter the code in the right way if you face a problem like when your Spotify gift card not working. While entering numerical like zero (0) be alert and don't put O. On the other hand, always user lowers case whenever required or asked.
If you have multiple accounts, keep in mind to use it only once and in account only. Moreover, if you have purchased it from a store of the gift card, sometimes it is not activated by them when purchased. Visit them and ask for activation.
In case your Spotify gift card code is damaged and you cannot read it any longer, contact the Spotify payments team for the same.
How to use Spotify Gift Card code?
Well, are you the one who has recently got a Spotify coupon and you don't know how to use the Spotify coupon code. Then, you must know on redeeming the gift card code, you will be offered an amazing service. You will be accessing the card for using US Spotify only, which offers the best content. It is designed to even for catering to the people of the US only. However, if you are willing to use it outside this country, make use of a VPN service.
When you are unsure about how to use the Spotify gift card, there are few things that you can follow:
- Login your correct information and if you are a new user, create your Spotify account.
- You can also use your gift card for renewing your existing subscription.
- Click your username available on top and click on the account.
- Have a look at the full menu option available on the left and scroll down for finding the "Spotify gift card redeem" option. Then, click on it.
- Enter your gift code details.
- Enter your zip code if asked.
And you are done. This is how you can use a Spotify gift card code easily for streaming music.
Spotify vs Apple music
Spotify and Apple music are the biggest players in the space of music streaming and they are known for this all around the world. Spotify has created the market on its own and holds millions of users. Both apple music and Spotify come with a free 3 months trial period for its premium services that cost around $10, $30 and others. On the other hand, Spotify is not free as one has to pay at least $0.99 during its trial period. It may cost around $5 for the students and family plans around $15. With Spotify premium coupon version, one is free to stream any song from their catalog and can play their favorite songs offline. If you are a student, you can also access showtime and Hulu as a part of the subscription plan. Spotify is the best music streaming service provider which is free from ads, even if you are not using their subscription plan. While apple music lets its free users to only listen to the songs from iTunes library or Beats 1 radio. This clearly states Spotify as a winner when it comes to Spotify vs Apple music. Similarly, even if you try Spotify vs Amazon music, Spotify will be a clear winner due to its series of benefits and features for its users.
Is it possible to use Spotify gift cards worldwide? Are there any usage restrictions?
Spotify gift card is easy to use in the country from where it is purchased. For example, if you have purchased it in the US, it allows you to use it in the same country. If you are willing to use it in other countries, you might need a VPN server for a quick access.
Is there any expiry term for Spotify Gift Card?
Yes, it is valid for only 12 months from its purchase. This means if you purchase a Spotify gift card on 1 Sep 2019, it will expire on 31 august 2020 at 11:59 pm.
Buy or Sell Spotify gift cards for cash!

If you have a Spotify gift card which you want to sell for cash or if you want to buy a Spotify gift card at discount, you should visit BuySellVouchers.com. It is one of the largest online market places for gift cards buyers and sellers. At this platform, buyers and sellers from all the round world are trading all the most popular gift cards, vouchers and coupons. Here you will find gift cards from App Store, Itunes Store, Apple Store, Amazon, BestBuy, Walmart, Ebay, Skype, Steam, Netflix, Microsoft, Nike, Google Play, Facebook and many others…
The accepted payment methods – Perfect Money, Advanced Cash (Advcash), Bitcoin, Litecoin, Webmoney, Tether ERC20, BS Token and many others will be added soon.
Conclusion
With so many alluring benefits and features, Spotify gift cards can be an ultimate gift for all music lovers. Give them a chance for happy music streaming today.